Take The 30 Day Challenge Today!
Try Vitalizer™ and if you don't feel better you get your money back.
Vitalizer™ is the most advanced multi-nutrient supplement pack in the marketplace today, and it features a patent-pending delivery system designed to enhance absorption of key nutrients. Vitalizer is more than just a single multivitamin—with 80 bio-optimized nutrients clinically proven to create a foundation for a longer, healthier life, it's the only comprehensive multi-nutrient supplement pack you need. There's a Vitalizer that's right for everyone.
Backed by 55 years of nutrition science, a first-of-its-kind Landmark Study, 12 clinical trials, and with formulas that target the specific health needs of men, women, and active adults, Shaklee Vitalizer is the first step toward an optimal nutritional foundation.
Based on 12 Shaklee Clinical Studies
33%

LOWER TRIGLYCERIDE LEVELS†

11%

LOWER RATIO OF TOTAL CHOLESTEROL TO HDL CHOLESTEROL†

60%

LOWER LEVELS OF C–REACTIVE PROTEIN†

36%

LOWER LEVELS OF HOMOCYSTEINE†
Vitalizer™ is based on 12 clinical studies and a first-of-its-kind Landmark Study. In this groundbreaking study, we collaborated with researchers from the UC Berkeley School of Public Health to evaluate long-term Shaklee supplement users. The study showed the overall health of Shaklee users was markedly better than non-supplement users—based, in part, on the four key biomarkers above.
† Percentages reflect Shaklee supplement users compared with non-supplement users. Data for nonusers was obtained from NHANES 2001–2002 and NHANES III 1988–1994.
Not All Vitamins Are Created Equal
Shaklee Vitalizer™ is the only multinutrient supplement pack in the marketplace with S.M.A.R.T.™, a patent-pending, cutting-edge delivery system designed to improve absorption of key nutrients, ensuring the right nutrients get to the right place at the right time.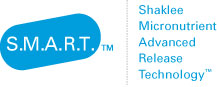 Why is it S.M.A.R.T.™?
What Micronutrients are Delivered?

Vita-Lea® Advanced Multivitamin

Micro created for immediate release in the stomach to enhance absorption of folic acid

Highly potent, comprehensive, and balanced daily supplement providing 23 essential vitamins and minerals and 100% or more of the Daily Value of all vitamins

B+C Complex

Sustained-release delivery to the small intestine; clinically shown to provide up to 198% greater absorption of B vitamins over 12 hours

Optimal levels of vitamin C, as well as essential B vitamins: thiamin, riboflavin, niacin, pantothenic acid, and biotin

Caroto-E-Omega

Carotenoids, vitamin E, and omega-3 fatty acids are enteric coated for release in the upper intestine to reduce fishy aftertaste

• Ultra-pure, pharmaceutical-grade fish oil that contains seven omega-3 fatty acids--with optimal levels of high potency EPA and DHA

• Triple berry blend--featuring black raspberry, red raspberry, and blackberry seed extracts--provides 77X more polyphenols, ounce for ounce, than juice

• Full spectrum of naturally sourced vitamin E, the most effective form

• Robust blend of antioxidants, including lutein, lycopene, beta carotene, and alpha carotene



Optiflora® Probiotic

Triple-layer encapsulation protects the live cultures against harmful stomach acid for release in the lower intestine

Extensively studied active cultures ofLactobacillus acidophilus and Bifidobacterium longum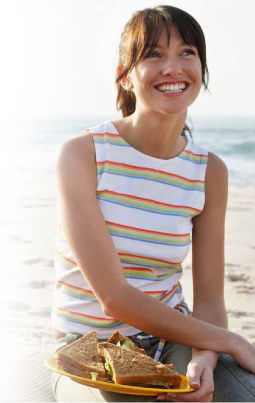 How Do Your Vitamins Stack Up?
| | |
| --- | --- |
| 55 | years of nutritional science in one daily serving |
| 12 | Based on 12 Shaklee clinical studies |
| 12 | patents and patents pending |
| 0 | added artificial flavors, sweeteners, or preservatives |
| 1,000+ | quality tests every time Vitalizer is made |
| 80 | bio-optimized nutrients |
Vitalizer™ Men

Heart Health -- with Omega-3 Fatty Acids and Vitamin E

Prostate health -- with more Lycopene, plus Zinc

Immune Health -- high in Vitamins C and D, plus Zinc

Physical Energy -- high in ALL Eight Essential B Vitamins

Joint Health -- high in Vitamin C, plus Manganese

Muscle Function -- with more Magnesium, plus Calcium*

Digestive Health -- with Probiotics

Health Blood Pressure -- with Omega-3 Fatty Acids and Magnesium

Vitalizer™ Women

Bone Health -- high in Calcium and Vitamins D and K

Breast Health -- with more Vitamin D*

Heart Health -- with Omega-3 Fatty Acids and Vitamin E

Immune Health -- high in Vitamins C and D, plus Zinc

Physical Energy -- high in ALL Eight Essential B Vitamins

Reproductive Health -- high in Folic Acid, Iron, and Calcium

Digestive Health -- with Probiotics

Healthy Hair, Skin, and Nails -- with Vitamins A and C, plus Biotin and Omega-3 Fatty Acids

Vitalizer™ Gold

Healthy Aging -- with N-acetylcysteine, more Vitamin B12, and Vitamins C and D

Heart Health -- with CoQ10, Omega-3 Fatty Acids, and Vitamin E

Bone and Joint Health -- high in Calcium and Vitamins D, C, and K

Immune Health -- high in Vitamins C, D, and A, plus Zinc

Brain Health and Cognition -- with Omega-3 Fatty Acids, plus Vitmains B6 and B12

Healthy Vision -- with Lutein and Vitamin A

Digestive Health -- with Probiotics

Physical Energy -- with ALL Eight Essential B Vitamins